Winters in many parts of the Western U.S. can easily see temperatures that dip down below freezing. For many gardening homeowners, this can be troublesome when precious plants are concerned. Covering your plants with sheets may not be enough to save a plant from succumbing to freezing temperatures. Check out these ways to bring your plants inside for winter:
Take Inventory of Plants
Unless you have planted exotic plants that are definitely not going to survive cold temperatures, there are probably more than a few plants within your yard that should be okay. Healthy native plants are used to the climate of your area and should be able to withstand the winter temperatures without any issue. Those plants that are better suited for a higher growing zone will need to be cared for in order to best survive the season. Consider every plant within your yard and access their health, maturity, and location in order to choose which plants to bring indoors.
Indoor Placement
Exotic plants love the sun and should be placed near southern facing windows that aren't drafty or cold. Create a spot within your home that is far from drafts or cold breezes from open doors. Spread plastic sheeting to protect flooring and create a little greenhouse group of plants that will still receive plenty of sunlight. Refrain from placing plants too close together in order to allow for equal access to sunlight and air flow.
Container Issues
Many potted plants can easily be moved indoors without having to transplant them. Easily place potted plants in a group to ride out the winter season. In-ground plants within your landscape will need to be transplanted to a container in order to bring them indoors. Make sure that you consider the size of the plant and use a container that is big enough around for the root ball of the plant. Using a container that is much too large for a plant is better than one that is too small and could damage the plant's root system.
Keep the Fan On
Many indoor plants enjoy being near a window but will also need adequate air circulation to prevent soggy soil conditions. It is a good idea to keep the ceiling fan on in the room, at a low speed, in order to keep the air moving within the room. Don't place plants too close to heating vents in order to keep them from becoming too hot and overheated. Plants that produce browning leaves will need to be moved to a room with a humidifier in order to keep them in good condition as well.
Keep Pets Away
Many indoor plants can become curious items for an indoor pet. Make sure to keep pets away from plants in order to keep both safe. Some tropical plants are toxic for animals and some pets can prove damaging to plants. Create a barrier between plants and animals so that both are kept safe during the winter season.
Water & Dust
Keeping your plants watered indoors may look different than what it receives in an outdoor environment. Make sure to consider the plant before watering in order to keep it in soil that it prefers. Many winter climates will not see a lot of added water so choosing to water your indoor plants at a minimum will help mimic those conditions that it would receive outside.
Also, check the plants for accumulating dust that can easily be found after a few weeks indoors. Dust off plants on a regular basis in order to keep them healthy and able to absorb important nutrients. Use a wet cloth to gently wipe down leaves in order to keep dust free from indoor plants.
There are many things to consider when choosing to bring plants indoors for winter. Make sure to choose plants carefully and monitor their progress as the winter season wears on. Consider all of these tips for bringing your plants inside for winter in order to keep them from freezing outdoors.
By Kelly Holland on the Windermere Blog
Kelly Holland is a gardening and landscape design writer who loves experimenting in her kitchen. Her quirky nature loves a bright color palette so naturally, her coveted garden is covered in a rainbow of fruits, vegetable, and flowers. 
Windermere's Winter Drive Report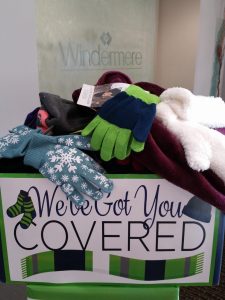 Windermere Bellevue Commons collects nearly 60 items for homeless youth!
We would like to take a moment and thank all of our agents and staff who participated in Windermere's Winter Drive: "We've Got You Covered" benefiting YouthCare! Our office collected 58 items including new hats, scarves, gloves/mittens and warm socks for homeless youth.
As part of Windermere's #tacklehomelessness campaign with the Seattle Seahawks, 37 Windermere offices* in King and Snohomish Counties participated in Windermere's "We've Got You Covered" winter drive. The recipient of these donations was YouthCare, a Seattle-based non-profit that provides critical services and support to homeless youth throughout the Puget Sound area.
Over 3,000 items were collected during the four-week drive, which included some 737 pairs of socks, 391 hats, 467 pairs of gloves/mittens, 111 scarves, and an assortment of other accessories and cash donations.
The folks at YouthCare were all very thankful to receive the delivery of eight bins full of donated items. And to make the day even more exciting, Blitz, the Seahawks mascot, was on site to oversee the delivery of the items to YouthCare!

10/16/2017  through  11/10/2017
We're excited to announce that our office is participating in Windermere's "We've Got You Covered" winter drive benefiting

YouthCare

.
We're heading into the second season of our partnership with the Seattle Seahawks, and we are continuing our campaign to help #tacklehomelessness. For every home game tackle made by the Seahawks, the Windermere Foundation is donating $100 to YouthCare, a non-profit that provides support and services to homeless youth throughout the Puget Sound area.
---
BUT THERE IS MORE WE CAN DO!
We're excited to hold another Windermere "We've Got You Covered" winter drive benefitting YouthCare. Each night in the greater Seattle area, nearly 1,000 young people are homeless. And with the winter months quickly approaching, YouthCare is in dire need of survival supplies to keep homeless youth warm and dry during the long, wet winter.
Here's what they need:
Warm socks
Hats
Scarves
Gloves/mittens
*New items only, please!
Please bring your donations by November 10th.
Thank you for your dedication to help others!