January
Seattle: University of Washington Basketball
In January, the Windermere Foundation and the YMCA participate in the annual Husky Hoops free-throw fundraiser. For every hoop a "Y" kid makes, a $100 donation is made to the "Windermere Kids at the Y" scholarship fund.
---
May
Seattle: University of Washington Annual Windermere Cup Regatta
The races are held as part of the celebration of Seattle's Opening Day of Boating Season and are followed by the Seattle Yacht Club's Opening Day Boat Parade. More than 700 rowers compete in this prestigious international event, which culminates with the women's and men's Windermere Cup races. Visit the Windermere Cup Facebook page!
Eastern Washington/Idaho: Windermere Marathon & Half-Marathon
Offices sponsor this scenic point-to-point Marathon on the Centennial Trail from Post Falls, Idaho to Riverfront Park in downtown Spokane, as well as an entire weekend of fitness activities. Windermeremarathon.com
Portland, Oregon: Parade of Roses, Portland Rose Festival
Windermere Services in Portland Oregon participates in the annual Parade of Roses every year.
---
June
Western Washington: North Olympic Discovery Marathon and Half-Marathon
Sponsored by the Windermere Sunland office and benefiting the LiveStrong Foundation. The North Olympic Discovery Marathon and Half-Marathon are run on a unique point-to-point course that incorporates the Olympic Discovery Trail with stunning views of the Olympic Mountains, and a five mile finishing stretch along the shores of the Strait of Juan de Fuca. The race is a USATF sanctioned event that is a Boston Marathon qualifier and is chip timed. Nodm.com
Nationwide Open House
Every year, during the first weekend in June, agents across the country participate in the National Association of REALTORS® Nationwide Open House, raising awareness about the real estate market in our local communities.
Northwest Community Service Day (third Friday in June)
This nationally recognized volunteer event sees all our Pacific Northwest offices close for a day of community service. Examples of projects include cleaning, landscaping, and painting senior citizens centers, facilities for physically and mentally challenged children and adults, public parks and schools, low income housing, and emergency shelters.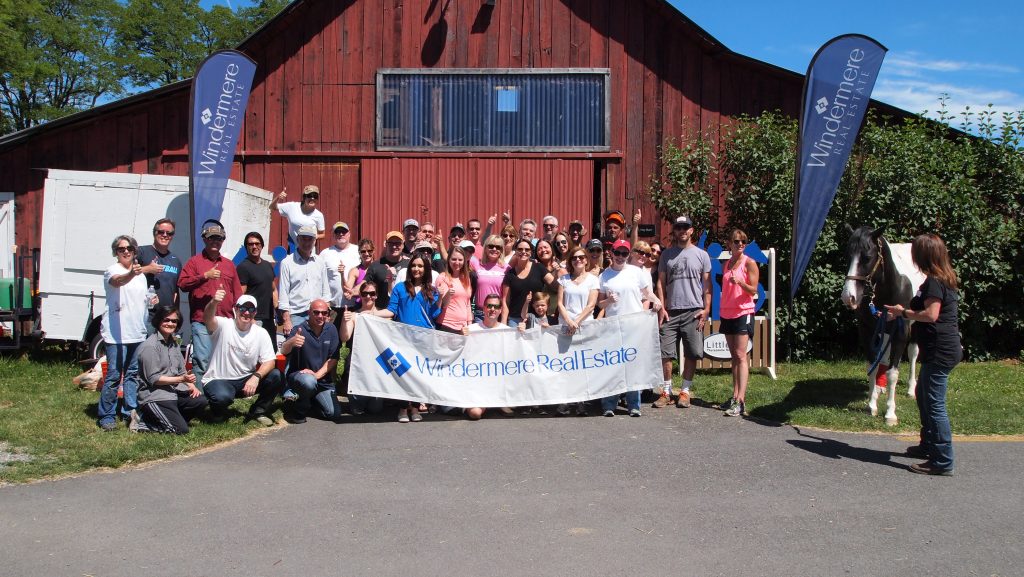 Little Bit Therapeutic Riding Center - June 2016
---
July
Seattle to Portland Annual Bike Ride
Windermere agents participate in the annual 200-mile bike ride from Seattle to Portland. Money raised by riders benefits the Windermere Foundation.
---
August
Greater Seattle: The Don Deasy Windermere Legends Memorial Golf Tournament
Each year Windermere Services hosts the annual golf tournament to benefit the Windermere Foundation and The Don Deasy Memorial Leadership 1000 Scholarship Fund. The tournament honors the memories of four Windermere Legends: Don Deasy, Terry Haberbush, Vince Haugerud, and Wally Starkey.
---
September
Whidbey Island, Washington: Annual "Make a Difference" Fundraiser
Offices on Whidbey Island host dancing and live music to raise funds to support charities that benefit their local community through the Windermere Foundation.
---
October
Southwest Community Service Day (third Friday in October)
This annual day of service sees all of Windermere's offices in California, Nevada, and Arizona take the day off from real estate to volunteer at a variety of local charitable organizations in need of service.
Federal Way, Washington: Oktoberfest Foundation Fundraiser
Offices from Burien, Federal Way, Renton South, Kent, West Campus, Maple Valley, and Renton host an annual fundraising event at the Fairwood Country Club in Renton to benefit the Windermere Foundation and support their local partner nonprofit organizations.
---
November
We participate in "We've Got You Covered" winter drive benefiting local non-profit organizations that support and services to homeless youth throughout the Puget Sound area. Each night in Seattle, nearly 1,500 young people are homeless. We collect supplies in our office for homeless youth in need to keep them warm and dry during the long, wet winter.