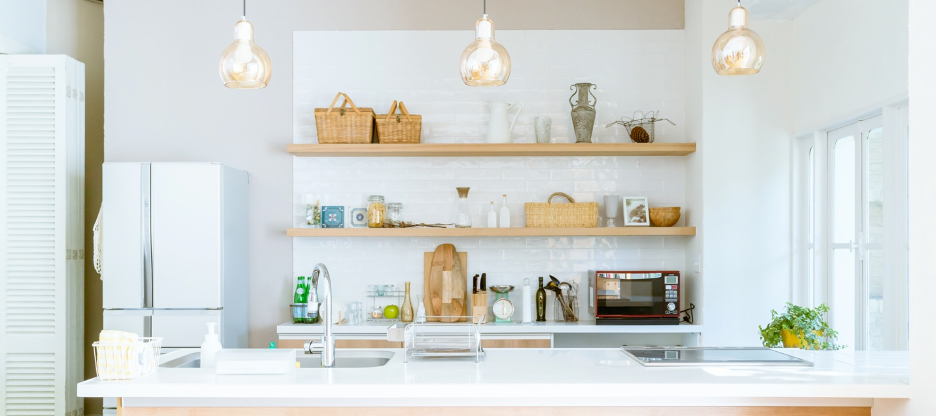 Image Source: Shutterstock
When organizing your home, knowing where to start can often be the most difficult part. Breaking the process down room-by-room and keeping the following tips in mind will help you get started and keep your home organized in the long run.
Kitchen
Given how much time is spent in the kitchen, it can get disorganized easily. Kitchen countertops are also one of the most frequently touched and used surfaces in a home. Taking items off the counters and storing them on shelving above or below is an effective first step. Open shelves are a great fixture for easy access while preparing and cooking meals. Store the items you use the most here and stow away large tools that you don't use as often.
A lazy Susan is a must-have for kitchen organization, bringing the back of the cabinet to your fingertips. A great home for kitchen items that are heavy, clumsy or messy, they are highly accessible. Cleaning out a lazy Susan is much simpler than cleaning out cabinets, which frees up shelf space for those items that usually sit out on your kitchen counter.
Living room
A good first step for your living room is to take inventory. See what items can be disposed and what might belong elsewhere in the house. Take time to think about the flow of the room and how you envision foot traffic will interact with the space.
Multifunctionality goes a long way in the living room. Coffee tables, side tables, and ottomans that are designed with more than one purpose in mind will help to declutter. Look for pieces with underneath storage, drawers, or magazine holders.
Bathroom
For both aesthetics and functional storage, open shelving will help take your bathroom to the next level. It provides plenty of room to stow bathroom supplies, towels, toiletries, and brings a more welcoming feel to the space.
This is a great time to go through your bathroom products. Discarding old, expired, and unused items will free up additional space and give the room a cleaner feel. Once you've cleaned everything out, take this time to reorganize your medicine cabinet with your newly reduced bathroom inventory.
Bedroom
Keeping your bedroom organized is a matter of maximizing space and minimizing clutter. If you have limited closet space, try placing a garment rack in a corner or against a wall, or store out-of-season clothing items elsewhere. The underside of your bed is useful for storage. Try functional organizers such as bins and roll-out shelving. Using your dresser as a nightstand or your bookshelf as a décor piece will add flair and cut down on clutter as well.
Making the most of the hanging space in your closet is a sure-fire way of keeping it decluttered. Position the most-used items at eye level and stow lesser-used clothes and accessories higher up. Not only does this give priority to your closet which helps you stay organized over time, but it can save you time when getting ready.
Garage
A common tactic for creating storage space in your garage is to go vertical. This will help free up space for your stuff while maintaining the space reserved for your vehicles. The garage is also a good home for large or bulky items that you don't use every day.
Going room-by-room will help you piece together the look and feel of the organized home you want to achieve. Be comfortable with clearing out a space in order to put it back together the way you have in mind. Sometimes rooms have to get messier before they get organized.
Originally published on the Windermere Blog by Sandy Dodge
Working from home is an aspiration for many of us, but to do so effectively takes effort. A disorganized space at home can be just as troublesome as a hectic office. The most disciplined telecommuters will tell you that you need a structured routine and organization in order to be successful.
Having a designated workspace is one of the most important elements to your success when you make the switch to telecommuting. Even if you live in a small space, you need to find a balance between home and office. People who work from home often have a difficult time separating their work hours from their non-work hours because it's so easy to keep at it late into the night. But maintaining a balance and shutting down the computer is important for overall wellbeing. What are some other must-haves for a successful home office? Here are the top five:
Natural Light – Study upon study tells us that natural light is needed to boost productivity and mood. Make sure to set your desk up as close to a window as you can. If being near a window isn't an option, a natural light lamp is the next best thing. It helps balance your body clock and leaves you feeling rested and refreshed.
To-Do List or Planner – Start each day off by making a to-do list outlining what you need to get done before the end of the workday. Make sure to set a realistic time frame in which all of that should be completed, so you can check each one off the list and feel immense accomplishment once you've completed them all.
Storage – If you have a big enough space, put in a large bookshelf where you can organize everything (think storage boxes). It reduces clutter and looks stylish. Using your walls and cabinetry is the most efficient use of space.
Calendar – Many people tend to rely on digital calendars these days because of their convenience. When all of your devices sync together and pop up with reminders, you never have to worry about missing an appointment. However, many people find that it helps to keep a paper calendar handy too so you can easily view your whole month at a glance. Choose which options works best for you by playing with both options, or something in between and see which one lets you be more productive with the least amount of stress.
Space for Inspiration – It doesn't matter what field you work in, having a source of inspiration in your workspace is essential. Whether it's a photo of your family, your dream car, or that vacation you've been dying to take, having that inspiration right in front of you provides a constant reminder of why you do what you do.
Originally published on the Windermere Blog
Design inspiration comes in many forms, but few carry the cache of the Pantone Color of the Year. For two decades, the Pantone Color Institute has convened to debate and determine an appropriate color that represents the current times. In a tradition harkening to the pageantry and mystique of secret societies, biannual meetings are held in private by color and design experts to determine the appropriate shade for the upcoming year. Through this deliberation, we have been delivered our next design baseline: the 2019 Pantone Color of the Year is Living Coral.
Living Coral is a mesmerizing pinkish hue with a light base that makes it a spectacular pairing with a variety of other options. Evoking the way natural coral often forms a basis for entire, vibrant ecosystems, Living Coral seeks to be eye-catching, while simultaneously drawing attention to what surrounds it. So how can Living Coral be best incorporated into your home this year? We have a few ideas.
Accent Furniture
Photo Credit: Fresh Idees on Pinterest
It can be overwhelming to dive headlong into an entire stylistic renovation. Even a single feature, like a Living Coral colored chair or settee can brighten a space.
Entryway and Living Room Walls
Photo Credit: France and Son on Pinterest
Make a bold first impression by inviting guests into a space that is framed by Living Coral walls on every side.
Subtle Accessories
Photo Credit: HoneyComb Studio on Pinterest
Any room can be brightened by a touch of Living Coral. From coral curtains to stylish gilded vases and accent pillows, there are numerous ways, great and small, to sprinkle this seaside shade throughout your home.
Accent Wall
Photo Credit: Krista4Coral on Instagram
One of our favorite interior design trends pairs perfectly with Pantone's 2019 selection. Coating one wall with Living Coral is a great way to accent a space without committing to painting an entire room.
Brightened Door
Photo Credit: DesignStudio039 on Instagram
Whether gracing your front door or a unique space in your home, Living Coral inspires an optimistic feeling for what lies beyond.
Do you plan to incorporate Living Coral into your home this year? We'd love to hear about it!
Posted by John Trupin on the Windermere Blog
Posted on January 11, 2019 at 12:10 pm
Bellevue Commons
Posted in

Bellevue News, Design, DIY, Home owner tips, Home Sweet Home, New Year, Windermere Bellevue Commons News
Tagged

Design, Living Color, Pantone Color, real estate