Windermere's Winter Drive Report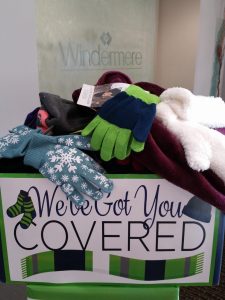 Windermere Bellevue Commons collects nearly 60 items for homeless youth!
We would like to take a moment and thank all of our agents and staff who participated in Windermere's Winter Drive: "We've Got You Covered" benefiting YouthCare! Our office collected 58 items including new hats, scarves, gloves/mittens and warm socks for homeless youth.
As part of Windermere's #tacklehomelessness campaign with the Seattle Seahawks, 37 Windermere offices* in King and Snohomish Counties participated in Windermere's "We've Got You Covered" winter drive. The recipient of these donations was YouthCare, a Seattle-based non-profit that provides critical services and support to homeless youth throughout the Puget Sound area.
Over 3,000 items were collected during the four-week drive, which included some 737 pairs of socks, 391 hats, 467 pairs of gloves/mittens, 111 scarves, and an assortment of other accessories and cash donations.
The folks at YouthCare were all very thankful to receive the delivery of eight bins full of donated items. And to make the day even more exciting, Blitz, the Seahawks mascot, was on site to oversee the delivery of the items to YouthCare!