2019 ended with too many buyers chasing too few homes. December marked the sixth straight month of declining supply. The severe shortage of homes, historically low interest rates, and strong job growth are predicted to keep the local housing market strong in 2020. In a region starved for inventory, sellers can expect significant interest in new listings.
EASTSIDE
Homes sold briskly on the Eastside in December in all categories, including the luxury market. The number of listings were down nearly 50% from a year ago and the area had under a month of available inventory. That lack of inventory helped bump the median price of a single-family home up 4% from a year ago to $949,000, which is a $49,000 increase from November.  New large scale developments and a strong economic forecast indicate that the housing market will remain healthy.
KING COUNTY
King County continues to be a seller's market. Inventory in December was down nearly 40% compared to a year ago and ended the month with below one month supply. The median price of a single-family home rose 6% over the prior year to $675,000, up slightly from November. More affordable areas saw much higher increases. Southeast King County – which includes Auburn, Kent and Renton – saw home prices jump 16% over the previous year.
SEATTLE
Numbers tell the story in Seattle. Inventory was down 25%, while the number of closed sales increased 19%. Strong demand here has kept the housing market solid, with prices fluctuating slightly month-to-month for much of 2019. The median price of a single-family home sold in December increased 2% from a year ago to $727,000. That was slightly down from $735,000 in November.
SNOHOMISH COUNTY
While the median home price in Snohomish County is less than that in King County, the gap continues to close. Buyers willing to trade a longer commute for a lower mortgage have kept demand and prices strong. Inventory here was off 36% in December as compared to a year ago. The median price of a single-family home rose 9% over a year ago to $510,000, an increase of $15,000 from November.
VIEW FULL SNOHOMISH COUNTY REPORT
---
This post originally appeared on GetTheWReport.com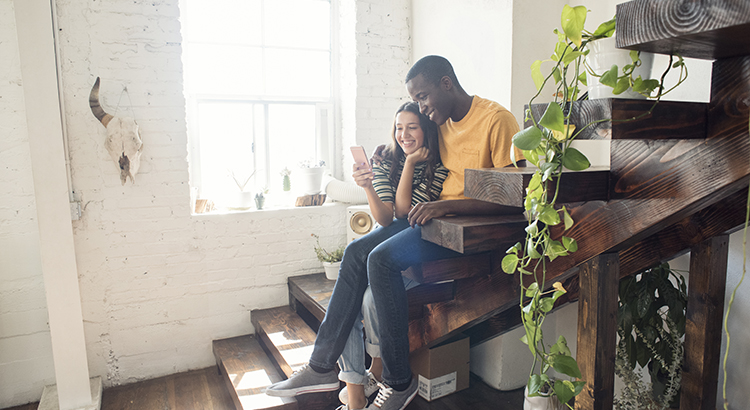 This will be an interesting year for residential real estate. With a presidential election taking place this fall and talk of a possible recession occurring before the end of the year, predicting what will happen in the 2020 U.S. housing market can be challenging. As a result, taking a look at the combined projections from the most trusted entities in the industry when it comes to mortgage rates, home sales, and home prices is incredibly valuable – and they may surprise you.
Mortgage Rates
Projections from the experts at the National Association of Realtors (NAR), the Mortgage Bankers Association (MBA), Fannie Mae, and Freddie Mac all forecast mortgage rates remaining stable throughout 2020:
Since rates have remained under 5% for the last decade, we may not fully realize the opportunity we have right now.
Here are the average mortgage interest rates over the last several decades:
1970s: 8.86%
1980s: 12.70%
1990s: 8.12%
2000s: 6.29%
Home Sales
Three of the four expert groups noted above also predict an increase in home sales in 2020, and the fourth sees the transaction number remaining stable: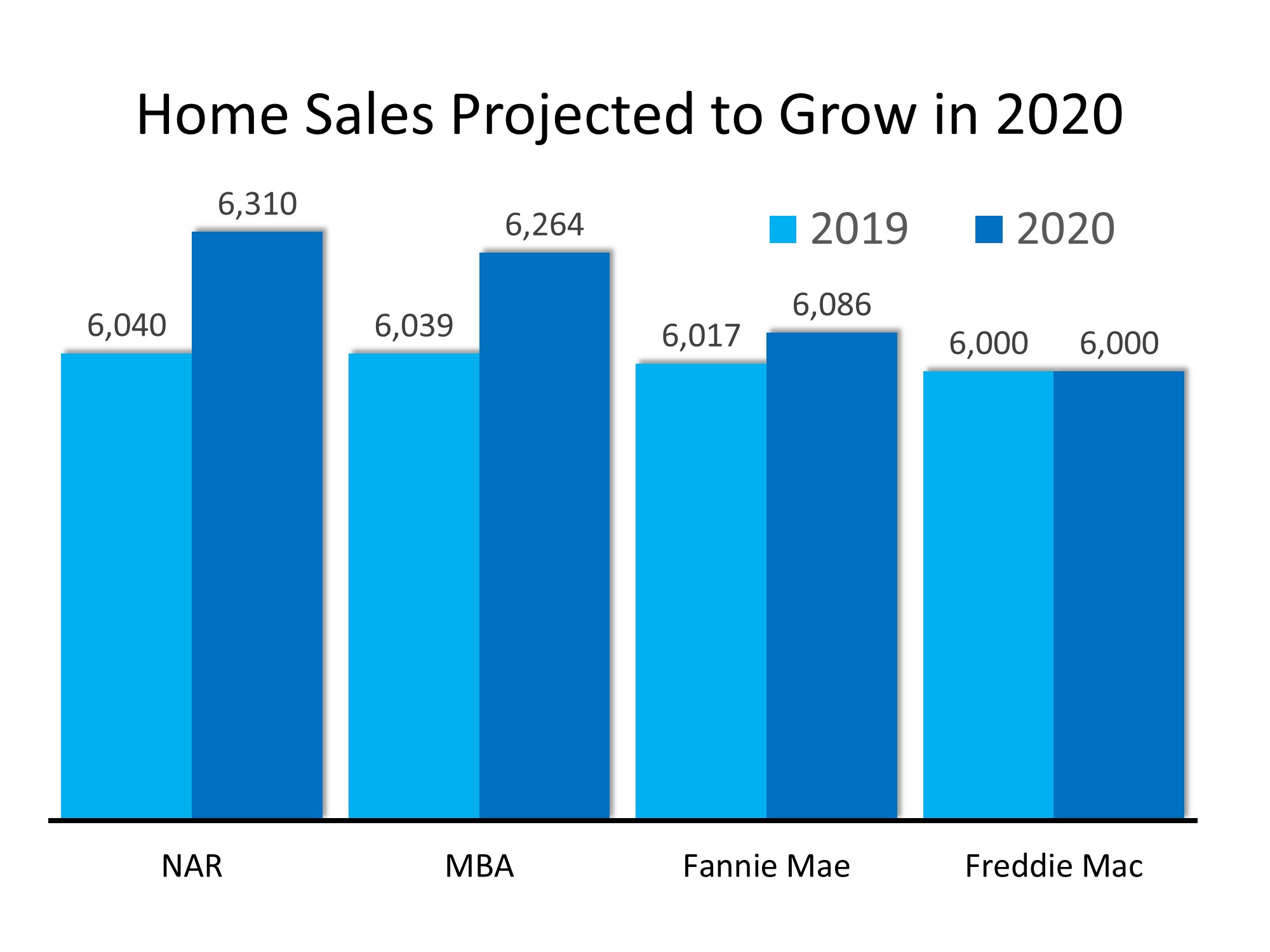 With mortgage rates remaining near all-time lows, demand should not be a challenge. The lack of available inventory, however, may moderate the increase in sales.
Home Prices
Below are the projections from six different expert entities that look closely at home values: CoreLogic, Fannie Mae, Ivy Zelman's "Z Report", the National Association of Realtors (NAR), Freddie Mac, and the Mortgage Bankers Association (MBA).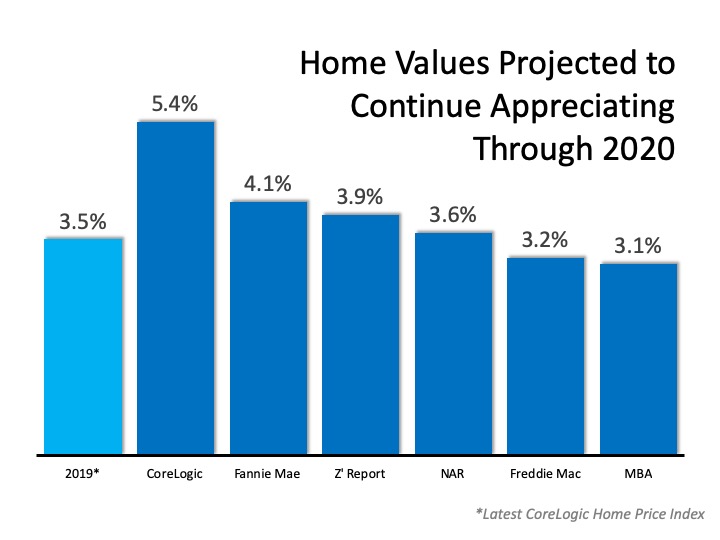 Each group has home values continuing to improve through 2020, with four of them seeing price appreciation increasing at a greater pace than it did in 2019.
Is a Recession Possible?
In early 2019, a large percentage of economists began predicting a recession may occur in 2020. In addition, a recent survey of potential home purchasers showed that over 50% agreed it would occur this year. The economy, however, remained strong in the fourth quarter, and that has caused many to rethink the possibility.
For example, Goldman Sachs, in their 2020 U.S. Outlook, explained:
"Markets sounded the recession alarm this year, and the average forecaster now sees a 33% chance of recession over the next year. In contrast, our new recession model suggests just a 20% probability. Despite the record age of the expansion, the usual late-cycle problems—inflationary overheating and financial imbalances—do not look threatening."
Bottom Line
Mortgage rates are projected to remain under 4%, causing sales to increase in 2020. With growing demand and a limited supply of inventory, prices will continue to appreciate, while the threat of an impending recession seems to be softening. It looks like 2020 may be a solid year for the real estate market.
Originally published on Keeping Current Matters
Windermere Real Estate has officially launched a new branding campaign on the heels of the company's brand refresh that was completed in 2018. The "All in, for you" campaign is the next step in bringing the refreshed Windermere brand to life by amplifying the company's unique "why".
Told, in part, through stories generated by actual Windermere agents, the "All in, for you" campaign sets out to illustrate Windermere's unique culture, and what has drawn both agents and clients to it for nearly 50 years.
"We're lucky to have a brand with such a rich legacy, but we have to continue to innovate and press forward," said Windermere president, OB Jacobi. "The brand refresh that we did last year was part one of Windermere's brand story; part two is about bringing our stories to life and showing our clients how we're 'all in', for them."
Development of the "All in, for you" campaign was led by Windermere Vice President of Marketing, Julie Dey, and Portland, OR-based global design firm, Ziba Design, whose clients include companies, such as FedEx, P&G, Adidas, REI, and Intel. Ziba started the year-long process by conducting interviews and holding focus groups with Windermere agents, franchise owners, and staff. They also interviewed past buyers and sellers to better understand the experience of working with a Windermere agent.
"We needed to speak directly with consumers to understand what people want, where real estate is headed, and the differentiated value that Windermere agents provide," said Rob Wees, Creative Director at Ziba, adding, "Real estate is an infrequent, emotional, and complicated process. And every experience is so different."
"In an era of technology and convenience, we wanted to show the public the real value of working with a Windermere agent—one that shows how compassion, expertise, advocacy and an over-commitment to service can help people through an incredibly important moment in their lives," said Wees.
Components of the "All in, for you" campaign include TV, print, digital marketing, out-of-home advertising, and partnerships with key media companies to create unique content opportunities. To kick-off the campaign, TV ads will begin running March 21 in the Seattle market.
"While some real estate companies are telling what is essentially a technology story about ones and zeroes, our story is more about connecting humans with their dreams. And it's a story we can't wait to tell," said Dey.
For many house hunters, a dream home isn't complete without being a good fit for the family dog. Some might see the fenced in yard, and consider the box checked. However, if you are looking for your next home, you may want to look a little deeper to be sure the fit is right before signing on the dotted line.
It's worth taking a little extra time to consider your pooch in a little more depth. Here is a quick checklist of considerations to be sure you find the right fit for your canine companion:
What's in a Yard?
A fenced yard is, of course, ideal for many dog owners. It gives you the ability for off-leash play, a must for meeting the exercise needs of active breeds such as Border Collies or Labradors. But not all yards are the same. Here's a quick checklist of what to look for:
Check the fencing to be sure it is secure. Factor in any repair costs into the cost of the home since they will need to be addressed right away.
Are there flower beds with potentially toxic plants that will need to be moved outside of the fenced area? Examples include many spring bulb favorites such as daffodils, tulips, and crocus, as well as some bushes such as azaleas.
Is there a nice shady spot so your pooch can find shelter from the heat on a hot summer day?
Is there access to water for an outdoor bath?
Will delivery people be able to access your main entrance when the dog is outside without entering the fenced part of your yard? It is easy to overlook, but this can become a major annoyance if you do a lot of online shopping.
Indoor Space Considerations
It won't always be a beautiful sunny day, even in your dream home. Make sure your new home will have enough space for a little indoor play on rainy days and during colder winter months. A long hallway can make a great runway for a game of fetch when getting outside just isn't practical.
Likewise, consider the needs of aging or injured dogs. Does the layout of the home require going up and down stairs to get to the most used areas of the home? This can be a major problem for some special needs dogs, and a deal breaker for some pet owners.
Finally, most dog trainers recommend that every dog has a little space to call their own during times of stress. This may be as simple as a corner of the living room with a comfy dog bed or crate. If you have a puppy, however, a space that can be puppy-proofed and cordoned off (with appropriate flooring for potential accidents during potty training) is in order.
Go for a Walk
It may be impractical to include a dog walk for every home you look at while searching for your dream house. However, once you are down to a short list, it is time to actually take your dog on what is likely to be the daily walk route. Make sure this is a walk you would feel comfortable making every day, or even letting the kids take.
Be on the lookout for hazards: A dangerous intersection, a portion of the walk that requires walking in the road, or a neighbor who lets their dog run right up to the curb with invisible fencing (a recipe for territorial fights with leashed dogs passing by). A drive through is unlikely to reveal these walk spoiling annoyances. In addition, look for evidence of good lighting for evening or early morning walks.
Nearby Canine Amenities
If you are moving to a new part of town or relocating to a new state altogether, it is worth doing some research to find out where the pet services are located. Depending on the services you tend to use, it can make a big difference in your quality of life to be able to take advantage of nearby conveniences.
Think about what services you are likely to use most, and check on Google Maps to locate:
Veterinarians
Dog boutiques (particularly important if you buy specialty food)
Grooming services
Doggy daycare and boarding
Pet sitting and dog walking services
Dog-friendly restaurants (BringFido.comis a great research tool for this)
Dog parks and dog-friendly paths for long walks
Flooring
Although luxurious hardwood flooring adds a great deal of ambiance to a home, it will have the opposite effect if it gets scratched up from the nails of a rambunctious canine. Large and even medium sized dogs can easily create unsightly scars in hardwood floors that can only be fixed by a professional who will need to sand away the wood then stain and refinish it. It's a costly fix!
Modern carpets can generally hold up to doggy traffic. However, think about where you will be coming in and out of the house with your pooch to be sure you have a place to wipe muddy paws first on rainy days. A mudroom or garage entrance can easily stow a few extra towels for the job.
Tile and high-quality laminate flooring are the most durable as both will resist scratching and are easy to clean.
Consider Pet-Friendly Condos and Planned Communities
If you have a truly pampered pooch, one way to go the extra mile is to ask your realtor about dog-friendly communities in your area. Many condominium complexes, for example, have pet services right on site. Pet grooming, pet-sitting, dog walking services, and even a fenced in dog park and/or pool is available in some areas.
Work with a Knowledgeable Realtor
Make sure to let your agent know upfront that you have a canine member of your family to consider during the house hunt. If there are certain "musts" such as a fenced yard, or proximity to veterinary services, be sure to put that on the table upfront to help your realtor find a home that works for you and your furry friend.
Originally published on the Windermere Blog
Sharon is the lead author at wileypup.com. She received her M.S. in Science & Technology Studies from Virginia Tech and has worked as a professional dog trainer for over 10 years.
By Michael Longsdon
For many seniors, there comes a time when the expense and upkeep of a big home no longer seem realistic. All of your kids have moved out, and suddenly, your multi-bedroom house feels excessively large and empty. Plus, it may be difficult to keep up with mortgage payments if you're expecting a lower income during retirement. Whether downsizing is a financial necessity or an emotional decision, here's how to tackle the process without getting overwhelmed.
Do Online Research
Before you start looking at houses in person, narrow down your options by doing some research online. Search the local housing market on sites such as Redfin to get a feel for house prices in your desired area. For example, homes in Seattle, Washington have sold for an average of $685,000during the past month. Explore listings in your preferred size range and location so you can come up with a realistic budget for your new home.
Think far ahead as you look at homes, considering the possibility that the needs of you and your spouse may change over time. One-story homes can be much more accessible for you and your friends down the line. You should also take time to research the neighborhood and pay attention to the house's proximity to grocery stores, leisure centers, and public transportation.
Plan for Your Storage Needs
If you're moving to an apartment or condo, you may not have the attic, basement, or even the closet space that you're used to. Look for a nearby for an affordable self-storage unit so you aren't left crowding boxes and furniture into your new home. Some simple online research can help you find the best deals in your area. In the last 180 days, for instance, self-storage units in Seattle, Washington cost an average of $88.45 per month.
Go Through Your Possessions Methodically
One of the hardest parts about downsizing is getting rid of things you've had for decades. Apartment Guide recommends looking at pictures of clutter-free rooms in magazines for inspiration before starting your own purge. This will mentally prepare you for getting rid of all the stuff you don't need cluttering up your new, smaller space.
As you declutter, go room by room and sort items into no more than five piles: keep, donate, sell, gift, and throw away. Don't be afraid to let go of things that are useful but not particularly necessary in your own life. Likewise, don't keep things out of obligation or feelings of guilt. While you're cutting the clutter, keep a floor plan of your new home nearby so you can plan out your rooms and ensure your furniture will fit. If you're worried about accurately measuring your space, you can hire a professional to help you out.
Pack Like a Pro
Protect your items during your move and make them easier to unpack later by trying out some expert packing tips. For example, socks make great padding for glasses and mugs, while oven mitts are perfect for transporting knives a little more safely. Secure entire desk drawers and kitchen storage trays with plastic wrap for much faster unpacking later. Also, keep your clothing on hangers and simply slip a garbage bag over them for protection. Remember to pack an essentials box of everything you need during your first day and night in your new house.
Follow a Moving Checklist
There is a lot to remember to do before moving day. For example, you need to update your mailing address with the post office, find a new doctor, and transfer your utilities. Follow a moving checklist (or hire a senior move manager for around $316 per day) to avoid forgetting important tasks. One of your moving tasks should involve researching moving companies at least two months before your move. This gives you plenty of time to find the help you need within your budget. Learn about how to spot rogue moving companies so you can avoid being scammed, especially if you're moving long distance.
Moving is exhausting for anyone. But moving into a smaller home can be especially emotional as you say goodbye to personal objects that have surrounded you for much of your life. For this reason, it's important to take things slow while you sort through your possessions and search for the perfect place to spend your golden years.
Posted by Michael Longsdon on the Windermere Blog
Mr. Longsdon provides advice to seniors on downsizing and aging in place and can discuss concerns like tackling home accessibility modifications, how to find a great contractor, the benefits of aging in place, and more.​
by John Trupin pn the Windermere Blog
For many people, a home inspection is a hurdle that has to be overcome during the process of buying or selling a home. But, in fact, it can be a useful tool for buyers, sellers or anyone who plans to get the greatest possible value from their home.
Find out if the house you are selling has "issues"
When you're selling a house, a pre-sale inspection can be particularly useful. By uncovering any potential problems your house may have, an inspection can give you an opportunity to address them before your first prospective buyer arrives.
In any market, a pre-sale inspection can give your home a competitive edge. Potential buyers are likely to find the kind of detailed information an inspection provides reassuring—and are encouraged to give your home a closer look.
Get to know a house before you buy it
A home is a major investment and, for many people, the greatest financial asset they have. With so much at stake, it makes sense to do what you can to protect your financial interest. Getting an inspection is a smart, simple way to do just that.
When you make a written offer on a home, insist that the offer provide that your contract is contingent on a home inspection conducted by a qualified inspector. You'll have to pay for the inspection yourself, but an investment of a few hundred dollars could save you thousands of dollars and years of headaches. If you're satisfied with the results of the inspection and are assured that the home you're purchasing is in good shape, you can proceed with your transaction, confident that you are making a smart purchase.
When does a home inspection make sense?
In addition to routine maintenance and pre-sale inspections, there are a number of circumstances in which a home inspection could greatly benefit a homeowner. If you are not sure, here are a few simple questions to ask yourself:
· Was your home inspected when you bought it? If not, an inspection would be beneficial even if your home was a new construction at sale.
· Are you an older homeowner who plans to stay in your home?  If so, it makes sense to hire a professional who can inspect difficult-to-reach areas and point out maintenance of safety issues.
· Do you have a baby on the way or small children? An inspection can alert you to any potential safety issues that could possibly affect a growing family, such as mold, lead or structural problems. If mold or lead is present, be sure to rely on technicians or labs with specialized training in dealing with these conditions.
· Are you buying a home that's under construction? You may want to hire an inspector early on and schedule phased inspections to protect your interest and ensure that the quality of construction meets your expectations.
What doesn't your home inspection cover?
For a variety of reasons, some homes will require special inspections that are not covered by a typical home inspection. A specialty inspection might include such items as your home's sewer scope, septic system, geotechnical conditions (for homes perched on steep slopes or where there are concerns regarding soil stability) or underground oil storage tank. If you have any questions about whether or not your home needs a specialty inspection, talk to your real estate agent.
Hire a professional
If you decide to hire a home inspector, be sure they're licensed in your state. They should be able to provide you with their license number, which you can use to verify their status with the appropriate government agency. It's also helpful to ask for recommendations from friends and family members. Even among licensed and qualified home inspectors, there can be a difference in knowledge, performance and communication skills, so learn what you can before you hire a home inspector to ensure that you get the detailed inspection that you want.
What to ask your home inspector
Ask the right questions to make sure you are hiring the right professional for the job.
What does your inspection cover?
Insist that you get this information in writing. Then make sure that it's in compliance with state requirements and includes the items you want to be inspected.
How long have you been in the business?
Ask for referrals, especially with newer inspectors.
Are you experienced in residential inspections?
Residential inspection in a unique discipline with specific challenges, so it's important to make sure the inspector is experienced in this area.
Do you make repairs or make improvements based on inspection?
Some states and/or professional associations allow the inspector to perform repair work on problems uncovered in an inspection. If you're considering engaging your inspector to do repairs, be sure to get referrals.
How long will the inspection take?
A typical single-family dwelling takes two to three hours.
How much will it cost?
Costs can vary depending upon a variety of things, such as the square footage, age, and foundation of the house.
What type of report will you provide and when will I get it?
Ask to see samples to make sure you understand his or her reporting style. Also, make sure the timeline works for you.
Can I be there for the inspection?
This could be a valuable learning opportunity. If your inspector refuses, this should raise a red flag.
Are you a member of a professional home inspector association? What other credentials do you hold?
Ask to see their membership ID; it provides some assurance.
Do you keep your skills up to date through continuing education?
An inspector's interest in continuing education shows a genuine commitment to performing at the highest level. It's especially important in older homes or homes with unique elements.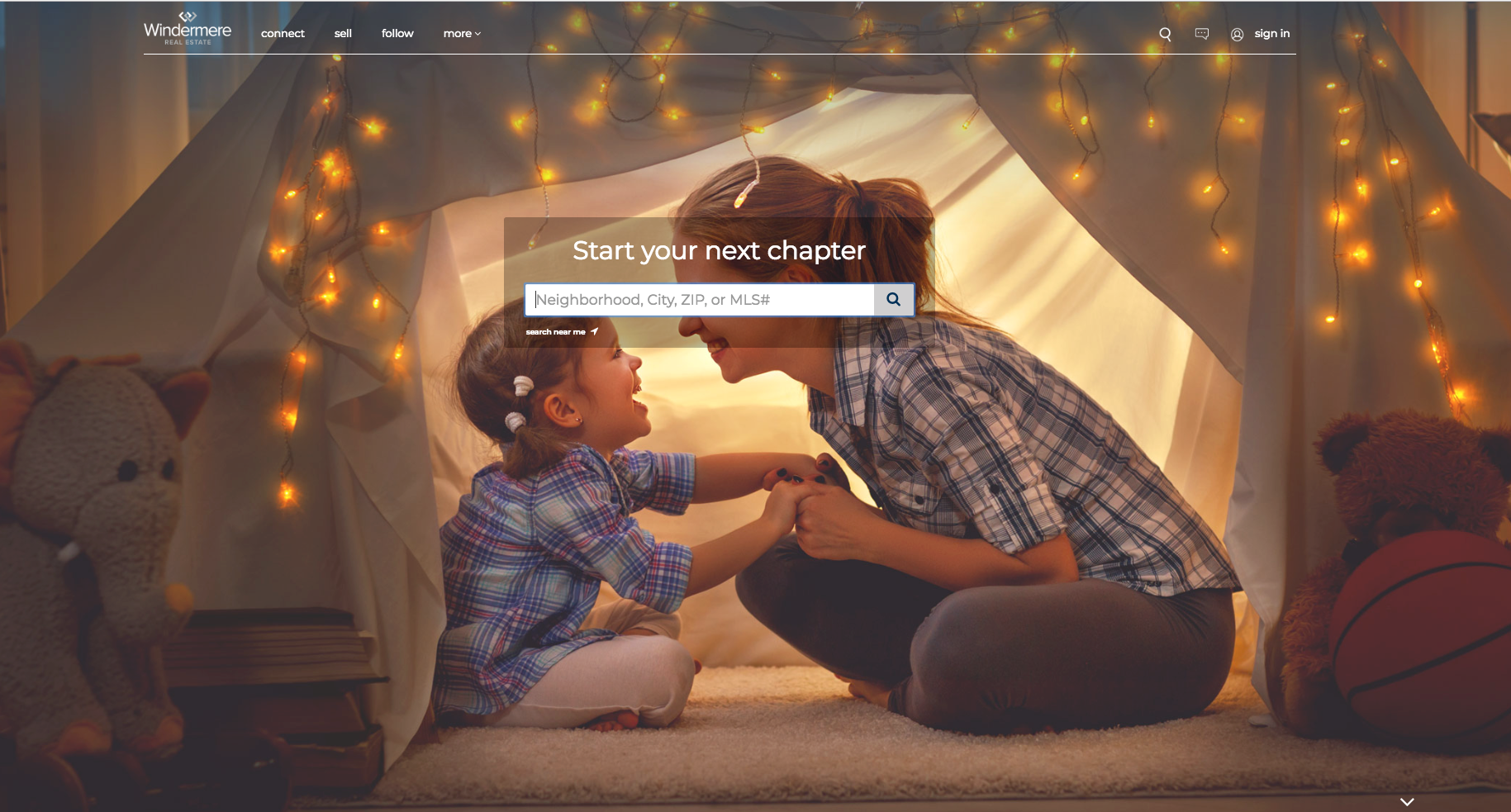 Around the halls of Windermere, we've decided that 2018 is the year to hit #refresh; it started with the launch of the refreshed Windermere brand earlier this year and today it continues with the unveiling of our refreshed website! The new Windermere.com is a result of a lot of research and input from our agents, franchise owners – and most importantly – consumers. As you can probably tell, we couldn't be more excited! Let's dig in.
Where we innovated:
Through the research process we discovered that over 85 percent of all traffic on our website occurs on our home page, search results, and property detail pages. This made it fairly easy for us to figure out what we wanted to focus on with the refresh. Plus, we heard from our regular site visitors that they felt those were the areas that needed the most improvement. Done, done, and done.
A much happier homepage:
We started with a total redesign of the Windermere.com homepage, which now better reflects the updated Windermere brand that we invested so much energy into earlier this year. The homepage is also now "location-aware" which means it will display listings that are geographically located closest to you. Because if you're in Fort Collins, Colorado, you probably don't want to be looking at listings in the suburbs of Boise. Catch our drift?
Mobile site, fast as lightning:
Next on the list to fix was our mobile site. We threw the proverbial baby out with the bathwater and started from scratch. The result is an ultra-fast, highly-optimized mobile site that we think might even offer a better user experience than our desktop site (although it's next to impossible to pick which is better; please don't make us do it).
Sexy search results:
OK, you probably wouldn't normally describe search results as sexy, but it's arguably one of the most important pages on our website, so we spent a lot of time here. What you see in your search results, and how those results are presented, has a major impact on your home search experience. We completely revamped how search results show up, as well as what you see when you click through to see a specific home. Is it the greatest search makeover of all time? Possibly.
Major eye candy:
As we all know, photos and videos are the beginning and end of everything these days, so we've placed even greater emphasis on those stunning images on our new property detail pages. We've also made it super easy for you to share listings that you love with your friends via social media, email, etc. because #sharingiscaring.
That's it, go check it out:
Without further ado, we cordially invite you to check out our brand new website for yourselves by going to Windermere.com. If you're someone who regularly uses our site, we hope you love it. If you're someone who doesn't typically use our site to search for homes, we hope you'll give us a shot. If you feel like it's completely on point, please let us know by emailing friend@windermere.com. If you don't, we'd still love to hear from you! After all, any feedback is good feedback – but please, play nice.
Happy home searching!
May 2018's Median closed sales price saw a 14% increase from $754k to $856k.
Last month brought some long-awaited, positive news for buyers with May posting the most new listings in over a decade. Despite the uptick in inventory, most homes are selling in less than a month. Prices haven't been impacted either, with the majority of the region continuing to experience double-digit home price increases.
The median home price on the Eastside hit an all-time high of $960, 000 in May; a 10 percent gain over the same time last year. While there were a third more homes for sale in May than a year ago, the area still had only about a month of available inventory. Three to six months is considered a balanced market. Redmond, a city with a population of 64,000, currently has only 51 single-family homes on the market.
Buyers can be a little more picky, more listings are coming, but they still are going to have to be aggressive with their offers.
58% sold for over list price and 83.4% sold in less than 15 days. However these are the properties that sold.
82% sold in 15 days or less.
 Sellers may want to be cautious about pushing their asking price.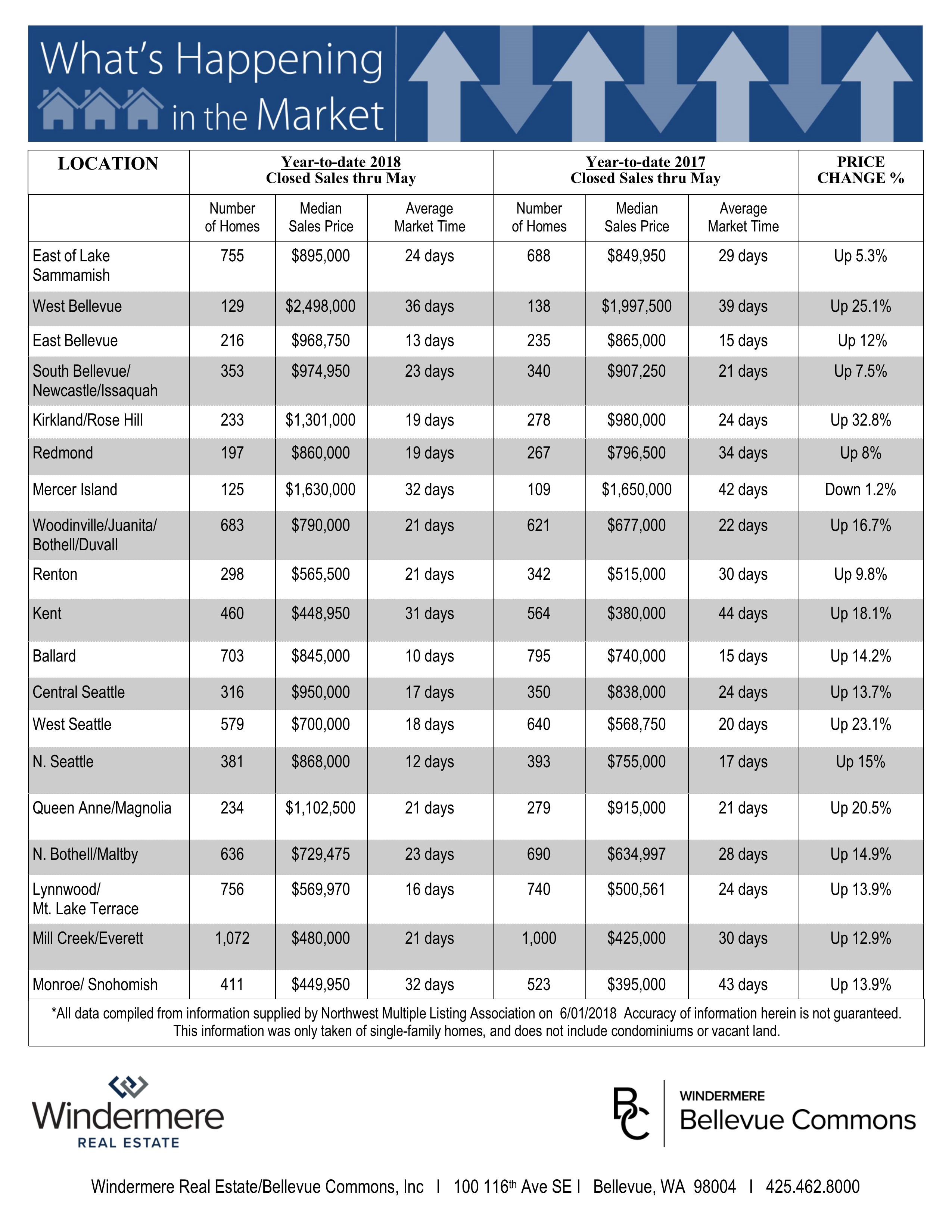 BUYING OR SELLING A HOME?
See how hiring a Real Estate Professional can benefit you.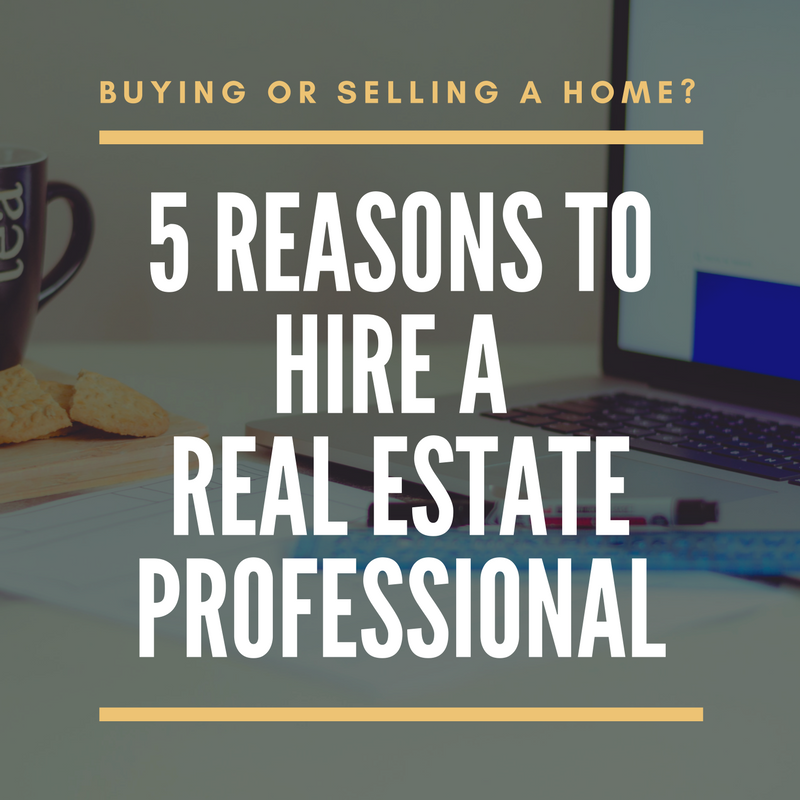 Whether you are buying or selling a home it can be quite the adventure, which is why you need an experienced real estate professional to guide you on the path to achieving your ultimate goal. But in this world of instant gratification and internet searches, many sellers think that they can 'For Sale by Owner' or 'FSBO.'
The 5 reasons you NEED a real estate professional in your corner haven't changed but have rather been strengthened by the projections of higher mortgage interest rates & home prices as the market continues to pick up steam.
1. What do you do with all this paperwork?
Each state has different regulations regarding the contracts required for a successful sale, and these regulations are constantly changing. A true real estate professional is an expert in his or her market and can guide you through the stacks of paperwork necessary to make your dream a reality.
2. Ok, so you found your dream house, now what?
There are over 180 possible steps that need to take place during every successful real estate transaction. Don't you want someone who has been there before, someone who knows what these actions are, to make sure that you achieve your dream?
3. Are you a good negotiator?
So maybe you're not convinced that you need an agent to sell your home. After looking at the list of parties that you will need to be prepared to negotiate with, you'll soon realize the value in selecting a real estate professional. From the buyers (who want the best deals possible), to the home inspection companies, all the way to the appraisers, there are at least 11 different people who you will need to be knowledgeable of, and answer to, during the process.
4. What is the home you're buying/selling really worth?
It is important for your home to be priced correctly from the start to attract the right buyers and shorten the amount of time that it's on the market. You need someone who is not emotionally connected to your home to give you the truth as to your home's value. According to a study by Collateral Analytics, FSBOs achieve prices significantly lower than those from similar properties sold by real estate agents:
"FSBOs tend to sell for lower prices than comparable home sales, and in many cases below the average differential represented by the prevailing commission rate."
Get the most out of your transaction by hiring a professional.
5. Do you know what's really going on in the market?
There is so much information out there on the news and on the internet about home sales, prices, and mortgage rates; how do you know what's going on specifically in your area? Who do you turn to in order to competitively and correctly price your home at the beginning of the selling process? How do you know what to offer on your dream home without paying too much, or offending the seller with a lowball offer?
Dave Ramsey, the financial guru, advises:
"When getting help with money, whether it's insurance, real estate or investments, you should always look for someone with the heart of a teacher, not the heart of a salesman."
Hiring an agent who has his or her finger on the pulse of the market will make your buying or selling experience an educated one. You need someone who is going to tell you the truth, not just what they think you want to hear.
Bottom Line
You wouldn't replace the engine in your car without a trusted mechanic, so why would you make one of the most important financial decisions of your life without hiring a real estate professional?
Posted on February 19, 2018 at 10:41 am
Bellevue Commons
|
Category:

Home Buying, Home Selling, Windermere Bellevue Commons News
|
Tagged

agent, bellevue real estate, buy, buy a home, hire a realtor, home buying, home selling, real estate, realtor, sell a home
Homeowners can build wealth by purchasing a home. Over the next five years, home prices are expected to appreciate on average by 3.35% per year and to grow by 24.34% cumulatively, according to Pulsenomics' most recent Home Price Expectation Survey.
So, what does this mean for homeowners and their equity position?
As an example, let's assume a young couple purchases and closes on a $250,000 home this month (January). If we only look at the projected increase in the price of that home, how much equity will they earn over the next 5 years?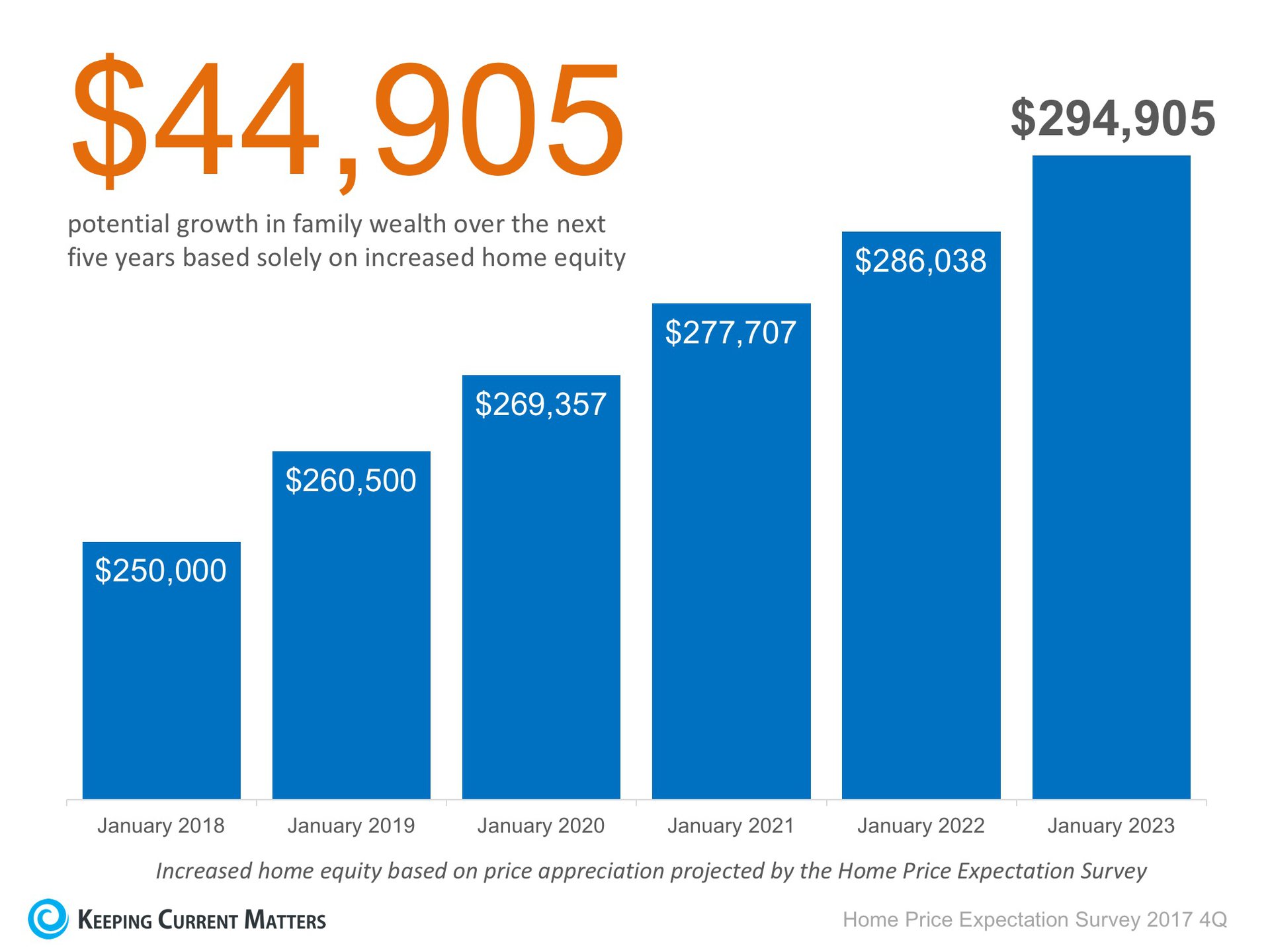 Since the experts predict that home prices will increase by 4.2% in 2018, the young homeowners will have gained $10,500 in equity in just one year.
Over a five-year period, their equity will increase by nearly $45,000! This figure does not even take into account their monthly principal mortgage payments. In many cases, home equity is one of the largest portions of a family's overall net worth.
Bottom Line
Not only is homeownership something to be proud of, but it also offers you and your family the ability to build equity you can borrow against in the future. If you are ready and willing to buy, speak to a professional and find out if you are able to today!
Source: keepingcurrentmatters.com