Welcome to the WBC Book Club, where your favorite Admins & Agents share our favorite books of the moment! From fictional adventures to inspiring true stories, you can find it all right here on the WBC blog. You may notice that the format of our book recs look a little different than most, but that's because our team loves to stand out and provide an unparalleled experience in all aspects of our business.
It's officially spooky season and we've got a batch of Literary Listings that are perfect for dark, stormy nights this October. From spell-binding adventures to mysterious murders and haunted houses, these books are sure to be a ghoulishly good time!
A Secret History of Witches by Louisa Morgan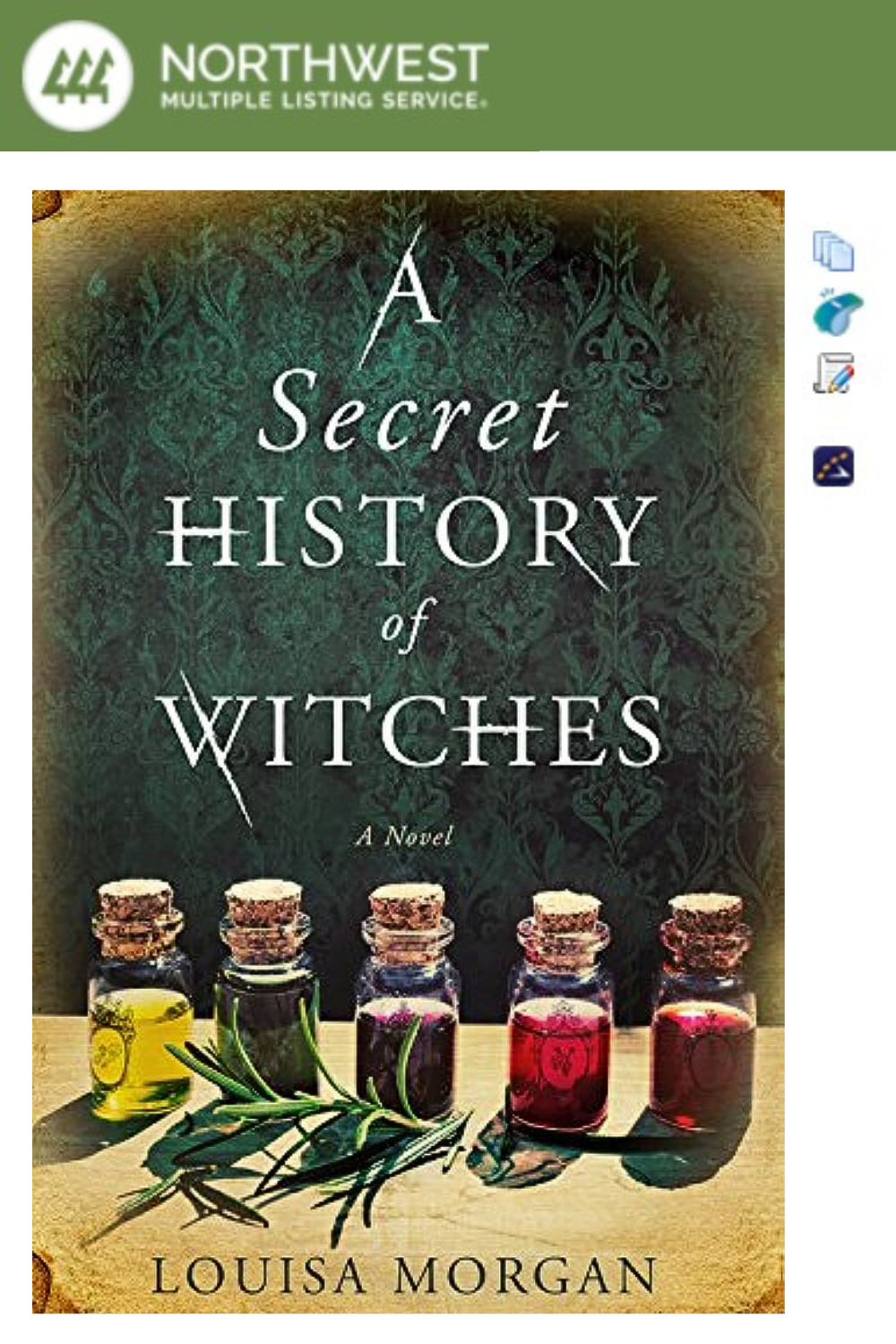 Marketing Remarks: Enchanting English farmhouse located at the base of St. Michael's Mount in picturesque Cornwall. Orchard Farm has been in the same family for generations and features original details, including thatched roof and stone wash basin. Bask in the natural wonder of the surrounding moors as you gather herbs for tinctures and potions from the garden. This property is sure to cast a spell on you!
Agent Remarks: A Secret History of Witches is a beautifully written, multi-generational saga spanning from 17th century France to England at the height of World War 2. Following four generations of women, each must come to terms with her magical abilities while facing witch hunters, persecution and judgement by society. It is a refreshing take on the legends of witchcraft with the modern concept of girl power, culminating in a powerful tale of self-discovery.
Directions: Read the synopsis here!
Unnatural Ends by Christopher Huang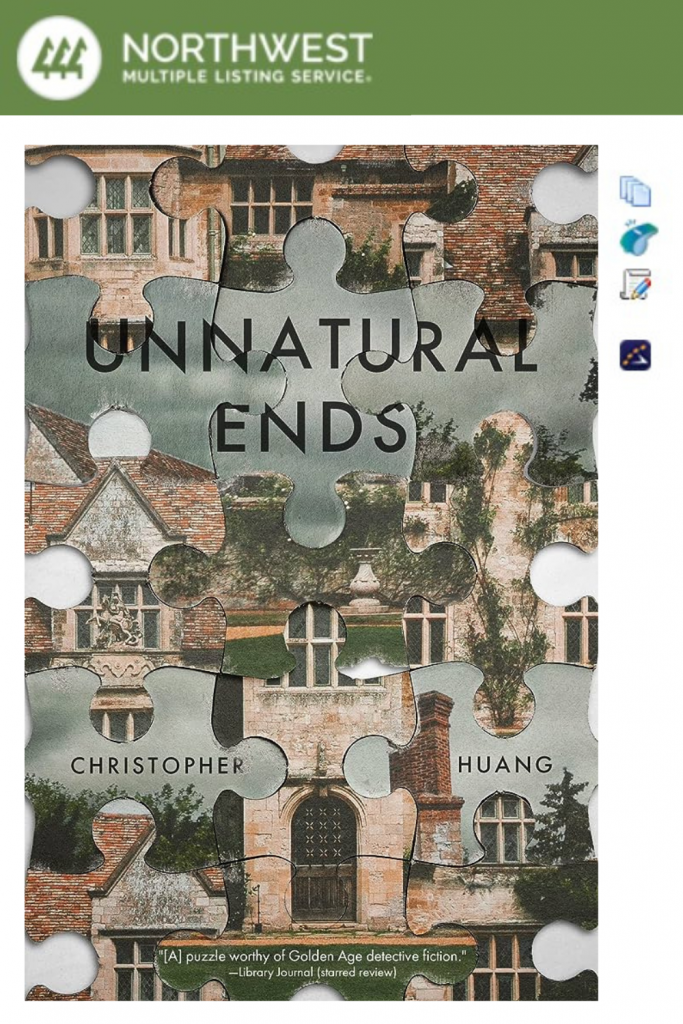 Marketing Remarks: Live like an aristocrat at Linwood Hall. With period details that include Tudor paneling and Plantagenet masonry, this historical property has been updated with all the modern conveniences, including radiators in every room. Enjoy stunning territorial views of the valley and village of Linwood Hollow from the house's prominent tower (accessible only through hidden servant's passage!). Property includes private crypt perfect for those wishing to visit loved ones who died under mysterious circumstances. Convenient and chilling!
Agents Remarks: Unnatural Ends is a great introduction to the classic whodunit from a contemporary voice. After the murder of their father, the three Linwood children face a final test from their guardian – whoever solves his murder will inherit the Linwood estate and fortune. As the siblings uncover more secrets about their father's past, they discover the dark truth about their own origins, delving into the age-old tug-of-war between wealth and power, gender dynamics and race. The Linwood children are snared in an elaborate mousetrap, and Christopher Huang keeps you guessing until the final page.
Directions: Read the synopsis here!
Mexican Gothic by Sylvia Moreno-Garcia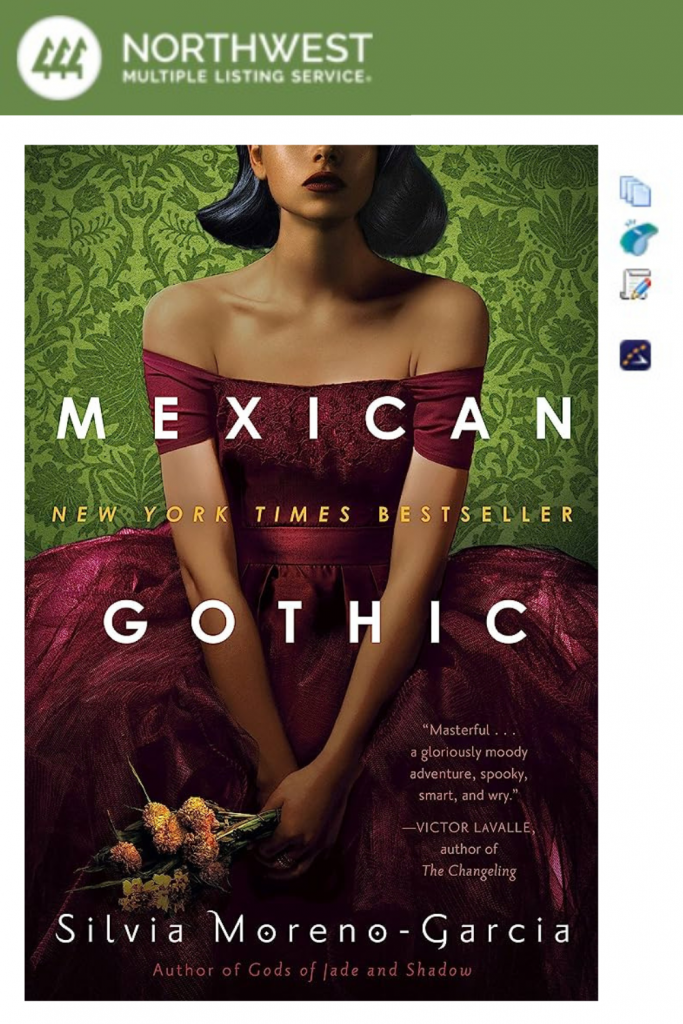 Marketing Remarks: Conveniently located just a short drive from the quaint mining village of El Triunfo, High Place is a beautifully preserved estate in the Victorian style. From the moment you walk up the stately ebony porch steps, you are immediately transported back in time thanks to beautifully rendered stained-glass windows, wooden friezes, and ornate mantle pieces. This property boasts a coach house that can be converted into a flex space and even a private cemetery that is always shrouded in a lovely mist. You will never be able want to leave this incredible home!
Agent Remarks: Like the ouroboros serpent caught in an infinite loop, Mexican Gothic is a snapshot of an endless cycle of destruction, death and madness for the Doyle family of High Place. Inspired by the real-life mining town of Real del Monte in Mexico, this story follows a young woman coming to the aid of her recently married cousin who fears that her life, and her sanity, are in danger. Sylvia Moreno-Garcia draws striking parallels between toxic family dynamics and the literal rot and decay festering in the Doyle's estate. Poignant and clever, this novel is a modern and fantastical twist of the classic gothic lit formula.
                  Directions: Read the synopsis here!
What should we read next? We are always on the lookout for new book recommendations and would love to hear from you – tag us on social media with your favorite stories!
Instagram @windermerebellevuecommons
Twitter @WindermereBelle
Facebook @Bellevue Commons (Windermere) 
Written by Makena Schoene
---