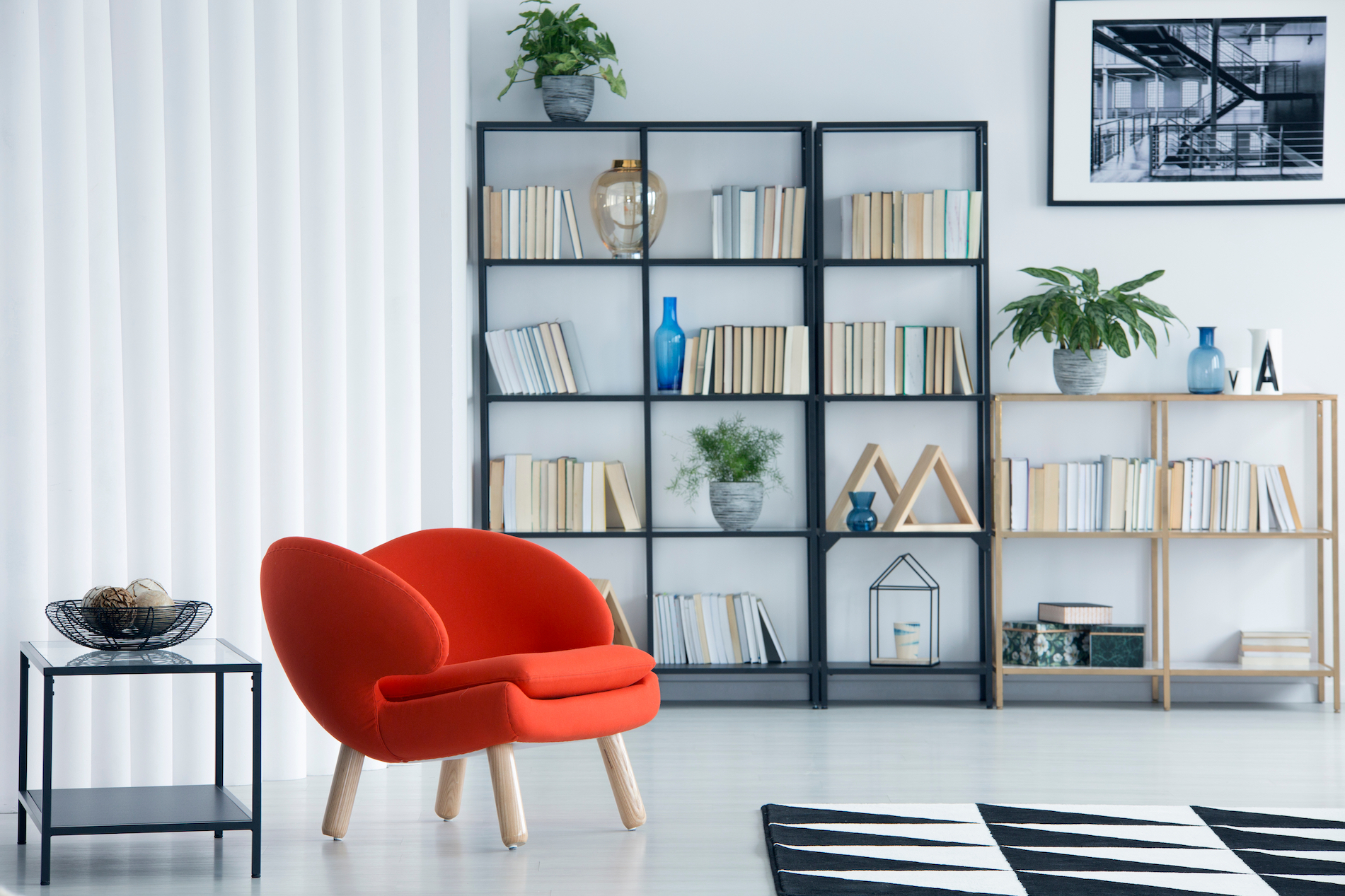 There comes a time in life where gifts take different forms during the holidays. Toys are replaced by tools and appliances. Games are supplanted by gift cards and gear for grander hobbies. Clothing ranges from stylish to functional, but typically reflects real-life necessities over fantastical dresses or costumes. But for many, books remain a timeless gift, offering windows into worlds we know well or have yet to discover. Approaching the new year is a wonderful time for any lucky recipient to reorganize their collection and make a statement.
Start with a blank canvas. Take everything off your shelves before you decide to start putting your books back on.
Mix it up. Don't have all of the books vertical or horizontal (but never stack anything on top of vertical stacks). Layer them on top of each other in different ways on all of the various shelves. Bigger books on the bottom of stacks, smaller ones on top. Place your most attractive books at eye level.
Accessorize. Add items in between, in front, and on top of books. This can mean collectibles, candles, small plants, pictures, you name it. You can use a variety of shapes and sizes, but try to keep all non-book items to the same theme/color.
Leave Space. Adding just a little bit of space between items gives space for the eye to breathe and helps your book and collectibles to stand out.
Little details. Don't follow the same pattern on each shelf otherwise, it could end up looking too stiff. Try to zig-zag your way down (or up).
Add color. If you're ready for a full-fledged redo, paint the back of the bookshelves to add dimension and character before styling. If you don't want to permanently color your bookcases, try fabric or wallpaper. For example, if you have glossy accessories, choose a metallic wallpaper to turn your bookshelf into a shimmering showpiece.
Have too many books or don't feel like accessorizing? No problem. Color code your books ROYGBIV style to make a bold and fun statement in your room.
by John Trupin on the Windermere Blog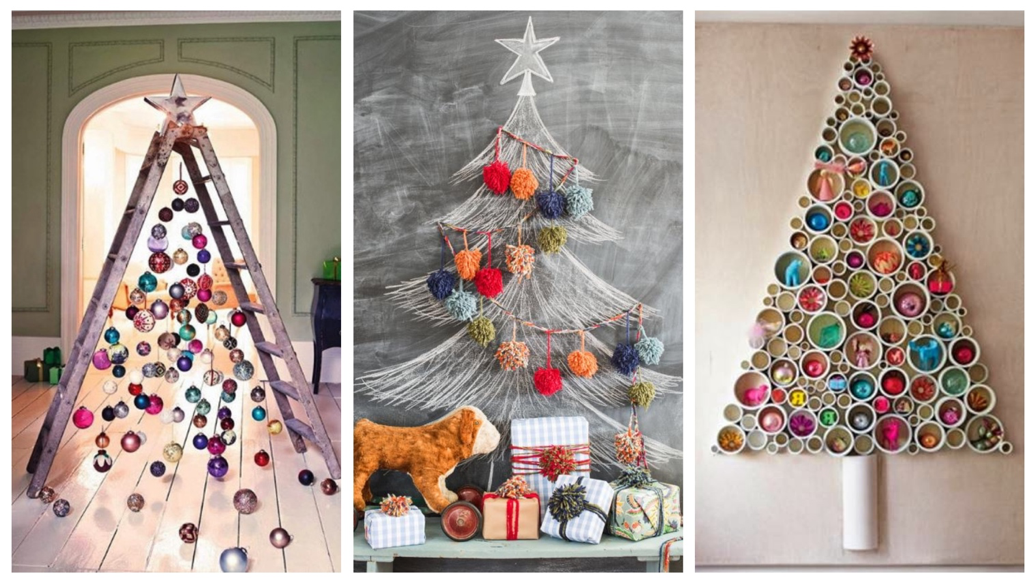 The holiday season is here and for many of us, that means it's time to deck the halls. If you're looking for some inspiration and a place to start, here are some ideas that are certain to get everyone in the spirit.
A Tree of a Different Color
Photo Credit: Left – Lushome, Center – HGTV, Right – Christmas365
For many, there's nothing more quintessential during the holidays than a Christmas tree decked out in ornaments. But acquiring a tree can be challenging and expensive. Moreover, housing a tree consumes time and space. That's why we love the idea of an alternative tree. There are plenty of options you can buy online or create yourself using things you probably already have around the house. And if you miss the smell of a real tree, try a scented candle or essential oils.
The Season of Lights
Photo Credit: Amara
There's something perpetually charming about twinkling lights. Whether you're wrapping them around your front porch or adorning your fireplace mantle, extra lights deliver a warm glow during the holiday season. Getting creative and adding light to otherwise unexpected places, including bookcases, around headboards, or even in glassware, is a great way to keep everything looking merry and bright.
Act Natural
Photo Credit: Better Homes & Gardens
Not all holiday climates are built alike. If you're expecting a white Christmas, you're probably used to pine trees and winter brush, but for those of you located in regions where the mercury doesn't drop, sprinkling in natural elements can transform your home into a wintery oasis. Holly and pine needles add a traditional touch, or consider a wreath of olive branches with some sleigh bells interspersed.
Bring it All Home at Dinner
Photo Credit: Amara
When decorating for the holidays, don't forget the table! A sprig of holly adds a festive touch to your place settings. And instead of the traditional centerpiece, try placing candles in glass vases or mason jars to give your tablescape that added touch of holiday pizzazz.
Posted on the Windermere Blog by John Trupin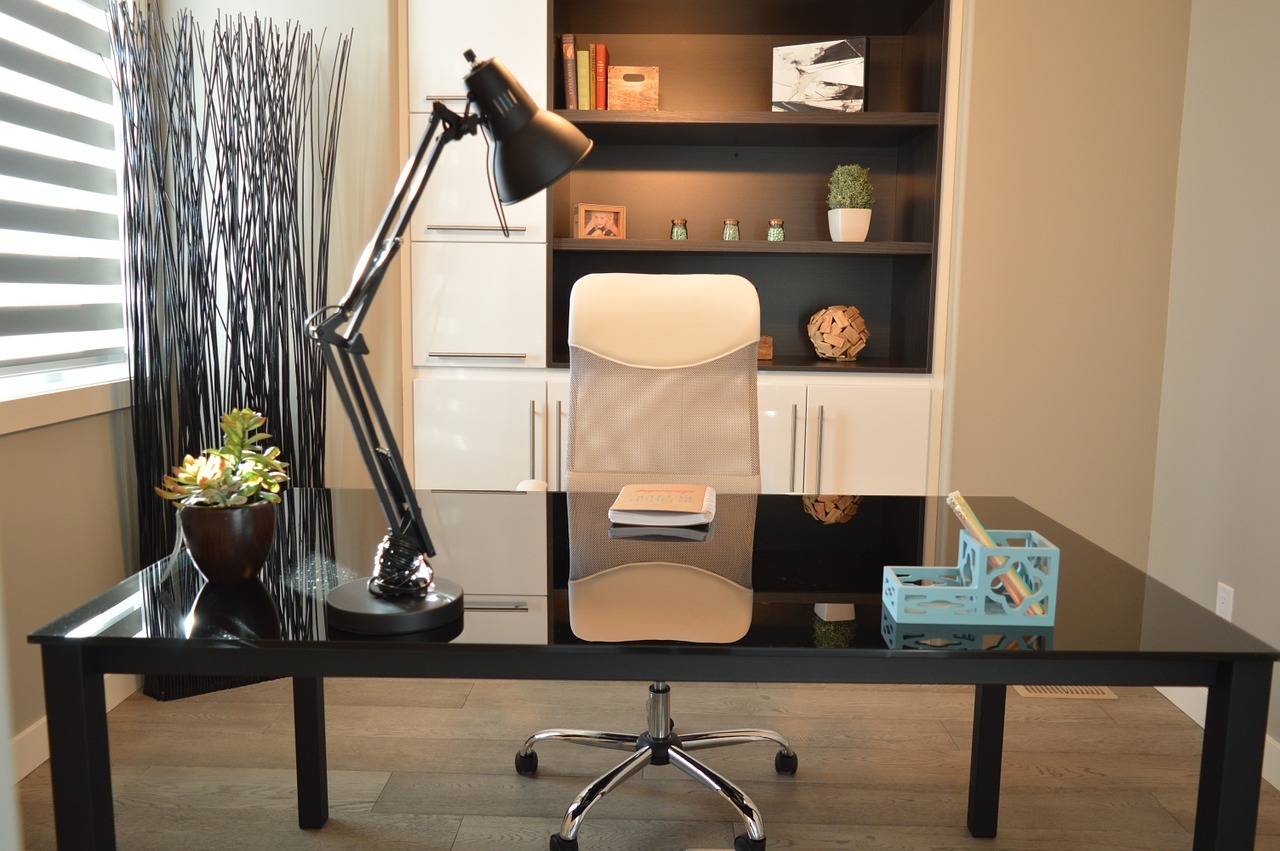 Working from home is an aspiration for many of us, but to do so effectively takes work. A disorganized space at home can be just as troublesome as a hectic office. The most disciplined telecommuters will tell you that you need a structured routine and organization to rise and grind and get into work mode.
Having a designated workspace is quite possibly the most important piece to the work-from-home pie. Even if you live in a small space, you need to find a balance between home and office. People who work from home often have a difficult time separating work hours from their non-work hours because it's so easy to keep at it late into the night. But maintaining a balance and shutting down the computer is important for overall wellbeing. What are some other must-haves for a successful home office? Here are the top five:
Natural Light – Study upon study tells us that natural light is needed to boost productivity and mood. Make sure to set your desk up as close to a window as you can. If being near a window isn't an option, a natural light lamp is the next best thing. It helps balance your body clock and leaves you feeling rested and refreshed.
To-Do List or Planner – Start each day off by making a to-do list outlining what you need to get done before the end of the workday. Make sure to set a realistic time frame in which all of that should be completed, so you can check each one off the list and feel immense accomplishment once you've completed them all.
Storage – If you have a big enough space, put in a large bookshelf where you can organize everything (think storage boxes). It reduces clutter and looks stylish. Using your walls and cabinetry is the most efficient use of space.
Calendar – Many people tend to rely on digital calendars these days because of their convenience. When all of your devices sync together and pop up with reminders, you never have to worry about missing an appointment. However, many people find that it helps to keep a paper calendar handy too so you can easily view your whole month at a glance.
Space for Inspiration – It doesn't matter what field you work in, having a source of inspiration in your workspace is essential. Whether it's a photo of your family, your dream car, or that vacation you've been dying to take, having that inspiration right in front of you provides a constant reminder of why you do what you do.
By John Trupin on the Windermere Blog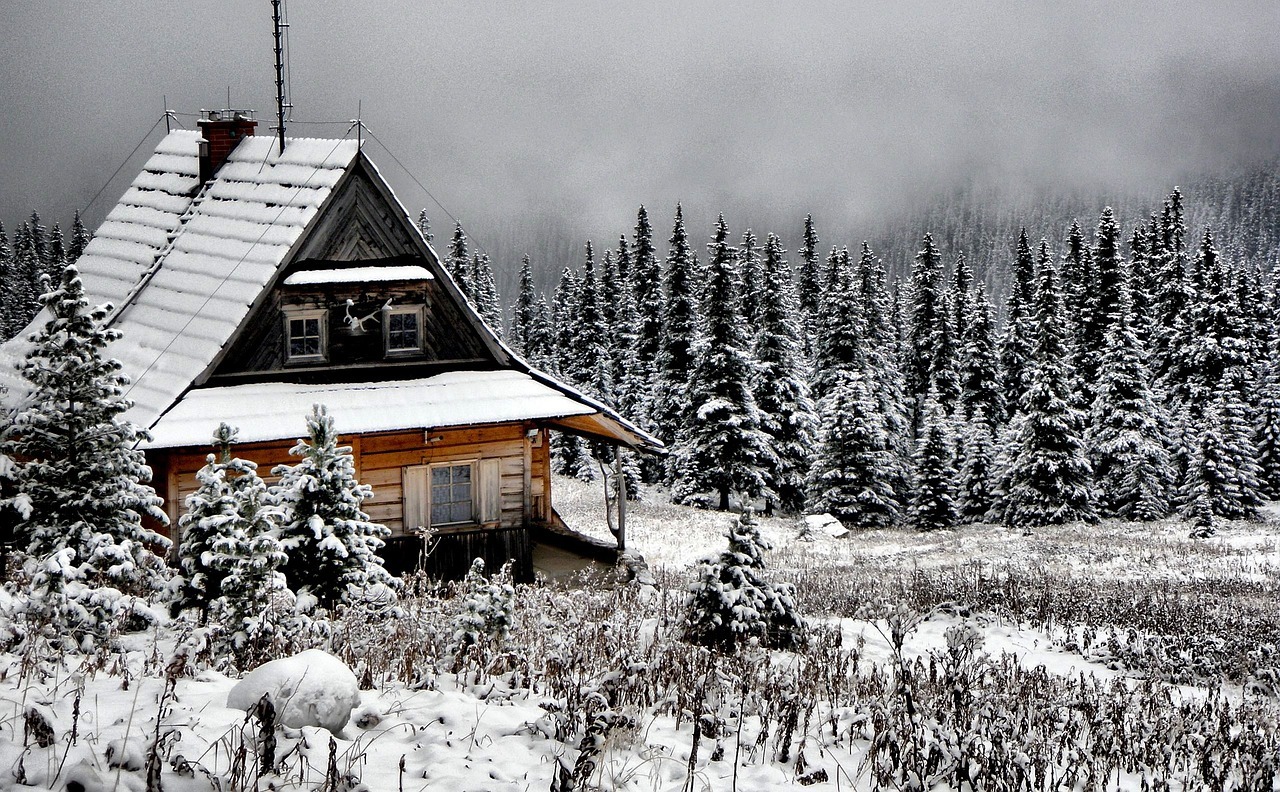 by John Trupin  on the Windermere Blog
None of us want to admit it, but Winter is Coming. The new season of Game of Thrones might not be until 2019, but your home will need preparation before then. As the days shorten, you can mitigate many mid-winter headaches with some preemptive prep. Proper weatherizing can help protect your investment from preventable damage, save money on energy costs, and, most importantly, keep your home safe and warm for you and your loved ones throughout the winter season. Here is a useful checklist to manage your weatherization project. Setting aside some time on a couple Sundays should be more than enough to knock this out:
Getting started: Check your toolbox to make sure you have all the materials you need for home maintenance in one place. This NY Times article provides a good list of the tools you'll really need to maintain your home. After your toolbox is put together, you can confidently begin the maintenance on your home.
Insulation: Insulating a home can reduce your energy bill by up to 50%. For the best results, your home should be properly insulated from the ceilings to the basement. By starting in your attic and progressively adding insulation to other areas of your home over time, you will avoid spending a large sum of money up-front.
Cracks & Leaks: Do a run-through of your entire house for cracks and leaks, from your roof to your baseboards. Winter weather is unpredictable. Whether your area gets rain, wind or snow, cracks in your house can lead to cold drafts or leaks that cause water damage. Depending on your house type, most cracks can be easily filled with supplies from your local hardware store in a do-it-yourself fashion. Use caulk to seal any cracks in the permanent building materials.
Windows & Doors: Another common place for heat leakage is in your windows and exterior doorways. Make sure seals are tight and no leaks exist. If you have storm windows, make sure you put them on before the cold season begins. Don't underestimate the difference some weatherstrips and a door sweep can provide in preventing drafts and keeping the heat in.
Rain Gutters: Clean your rain gutters of any debris. In colder climates, buildup will cause gutters to freeze with ice, crack and then leak. Once you have removed the residue from the drains, test them by running hose water to make sure cracks and leaks have not already formed. Even in warmer locales, the buildup can put undue stress on your roof and home.
Pipes: Pipes are a number one risk in winter climates. A burst pipe can become a winter disaster in a matter of seconds. Remember to turn off your exterior water source and take in your hose. Internally, wrapping your pipes is a recommended precaution to take.
Heating System: What's one thing gas fireplaces, wood burning stoves, and central air heating systems all have in common? They all need to be cleaned and maintained. Annual checks of are vital in avoiding dangers such as house fires. If you use an old-fashioned wood stove, make sure there are no leaks and that all soot build up or nests are removed. If a furnace is what you have, remember to change the filters as recommended or clean out your reusable filters.
Fireplace & Wood burning stoves: Make sure to have chimneys and air vents cleaned early in the season if you are planning on warming your home with a wood-burning source. When your fireplace is not in use make sure to close the damper, some resources estimate an open damper can increase energy consumption by as much as 30%.
Outside: As we mentioned before, make sure you bring your patio furniture inside (or cover) for the winter- but don't forget other, smaller items such as your tools, including a hose and small planting pot. Clear out any piles around the side of your house, checking for cracks as you go so to avoid providing shelter for unwelcome guests over the cold season. If your property has large trees check for loose branches and call someone to trim back any items that may fall in your yard, on your roof or even damage a window.
Emergency Kit: Lastly, make sure your emergency kit is up-to-date with provisions, batteries, fresh water, food for animals, entertainment for kids, etc- especially if you live in an area prone to power outages.