Brand New Bellevue Neighborhood: The Spring District
Yesterday some of our brokers went to a tour to learn more about Lake Bellevue Spring District. Our broker Michael Link, the President of the Lake Bellevue Alliance with The Spring District, was the tour guide. They previewed some of the apartment homes, experienced one of the best views in Bellevue from the rooftop, and received valuable information about The Spring District and details about different developments in that area.
More about The Spring District
The Spring District is a transit-oriented development and neighborhood that is under construction in Bellevue, Washington. The 16-block, 36-acre development is centered around the Spring District/120th station on the East Link Extension, a light rail line scheduled to open in 2023.
The Spring District is being developed by Wright Runstad & Company in a joint venture with the Shorenstein Company.
THE SPARC  Security Properties was selected by Wright Runstad & Company and Shorenstein Properties to help kick off Phase One of The Spring District. Security Properties purchased a 2.5-acre parcel at The Spring District's southwest corner and opened 309 residential units in late 2016. Aptly named Sparc, this project includes best in class amenities, spacious floor plans, a Bright Horizon's childcare center, and convenient access to pedestrian friendly transit.
PHASE 2 MULTIFAMILY In addition to the 309 residential units already open at The Spring District, Security Properties is currently under construction for an additional 279 apartments located directly to the east.
PHASE 3 MULTIFAMILY AMLI Residential Properties will develop nearly 1.5 acres of land in the southwest corner of The Spring District with a multifamily project containing approximately 204 units. Construction is underway with completion by late 2019.
Resources:
A fun activity during the Holidays
The Argosy Cruises Christmas Ship™ Festival is a ship-to-shore holiday celebration that has been a Northwest tradition since 1949. The Spirit of Seattle, the Official Christmas Ship™ is decorated with hundreds of shimmery white lights and sails to different Puget Sound waterfront communities – around 65 in all. Choirs on board the Christmas Ship™ perform to guests aboard as well as to our Follow Boats and to those communities gathered on shore. Select your preferred way to experience the Christmas Ship and prepare for the holiday event of the season!
Buy your tickets Here!
And here is the 2017 schedule…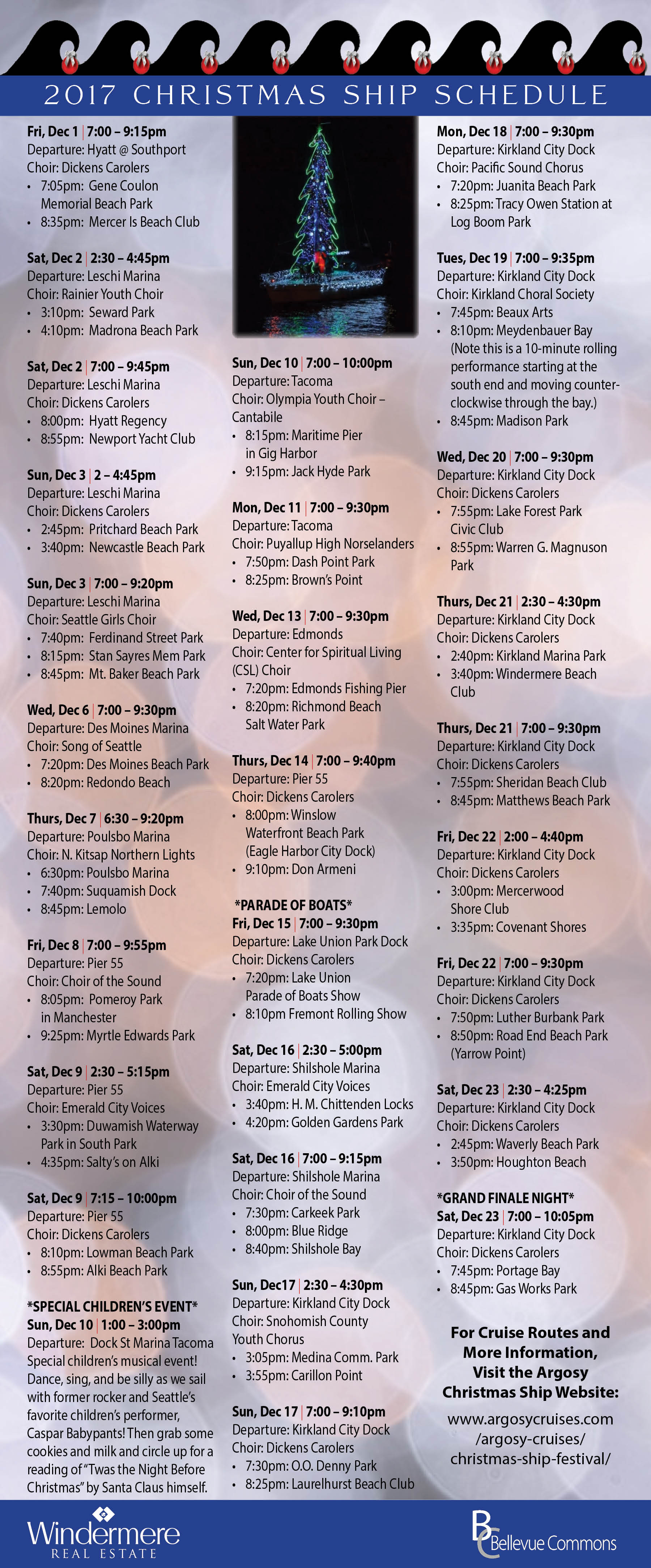 Meydenbauer Bay Park construction
The City of Bellevue has started the construction of Meydenbauer Bay Park. We're excited to see how it would improve the connection between Bellevue's bustling downtown and its scenic Lake Washington waterfront.
With a quarter mile of waterfront, the 10-acre park considerably expands the current Meydenbauer Bay Beach Park. A large public swimming beach, pedestrian pier, historic whaling building and new beach house will make the park a destination for residents and visitors.
"We are one step closer to fulfilling a 30-year council vision," said Mayor John Stokes. "This project is a testament to the patience and tenacity of city leaders who wouldn't give up on their dream of increasing waterfront access and connections to the heart of our city."
Key elements of the project include:
Relocation and expansion of the public swimming beach
Construction of a new beach house with restrooms and showers
A curvilinear pedestrian pier and hand-carry boat launch
Pedestrian, pathways and picnic areas
Remodeling the historic Whaling Building to include accessible restrooms, a small meeting room and boat rentals
Shoreline restoration to improve ecological functions
Parking and overlooks
Meydenbauer Bay, the site of a small village in the early 1900s, has a rich history. From 1914 to 1952, the inlet was the off-season home to a whaling fleet that plied Puget Sound.
The new park responds to the community's long-held interest in additional public water access. Despite Bellevue's 14 miles of shoreline along Lake Washington and Lake Sammamish, total shoreline in public ownership is limited to approximately 1.6 miles, or 12 percent, with the majority along Lake Washington.
IMCO General Construction will work primarily west and northwest of 99th Avenue Northeast to connect with and expand the existing park between Lake Washington Boulevard and the Meydenbauer Bay shoreline. Meydenbauer Beach Park will be closed during the project, and the Bellevue Marina will remain open.
Construction is expected to be completed in late fall 2018.
This article was first released by City of Bellevue.
Posted on May 24, 2017 at 3:45 pm
Bellevue Commons
Category:
Bellevue News
Tagged

bellevue, bellevue construction, Bellevue News, bellevue parks, bellevue real estate, buy, buy a home, construction, home, home price, home price increase, homebuyer, king county, Meydenbauer, Meydenbauer Bay Park, Millennials, parks, parks in bellevue, property, real estate, real estate in bellevue, real estate market, seattle, washington, windermere